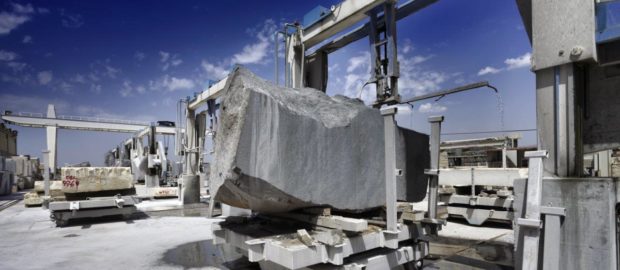 According to the statistics issued by the CONFINDUSTRIA MARMOMACCHINE Studies Center, the value of exports by Italian makers of machines, installations, tools and other equipment to quarry and process natural stone in the first 10 months of 2022 reached 885.8 million euros, a slight decline (-2.3%) from the same period the previous year.
This figure represents essential stability in the foreign sales of the Italian techno-stone industry, which after 18.5% growth in 2021 is also confirming for 2022 – despite the difficulties tied to steep price hikes for raw materials, components and energy – a return to pre-pandemic levels.
The sector ranking for destination markets saw the United States again in first place, from January to October 2022 importing stone technologies Made in Italy worth 165.5 million euros (up 38.8% from the first 10 months of 2021). Exports to the number two buyer, Spain, instead diminished (-12.7%) after record imports in 2021, to 54 million. Germany took third place, with purchases worth 51.2 million (+14%), followed by France (fourth, up 27.6% with 44.4 million) a rebounding India (fifth, +61.5% with 43.6 million), Poland (sixth, -6.8% with 42.5 million) and Canada (seventh, +19.2% with 38.2 million). Also worth noting was the considerable growth in stone-working technology exports to Turkey (eighth, +39.5% with 35.9 million), while there were significant drops in exports to the United Kingdom (ninth, -27.2% with 32.5 million) and Portugal (tenth, -24.2% with 30.1 million in purchases).