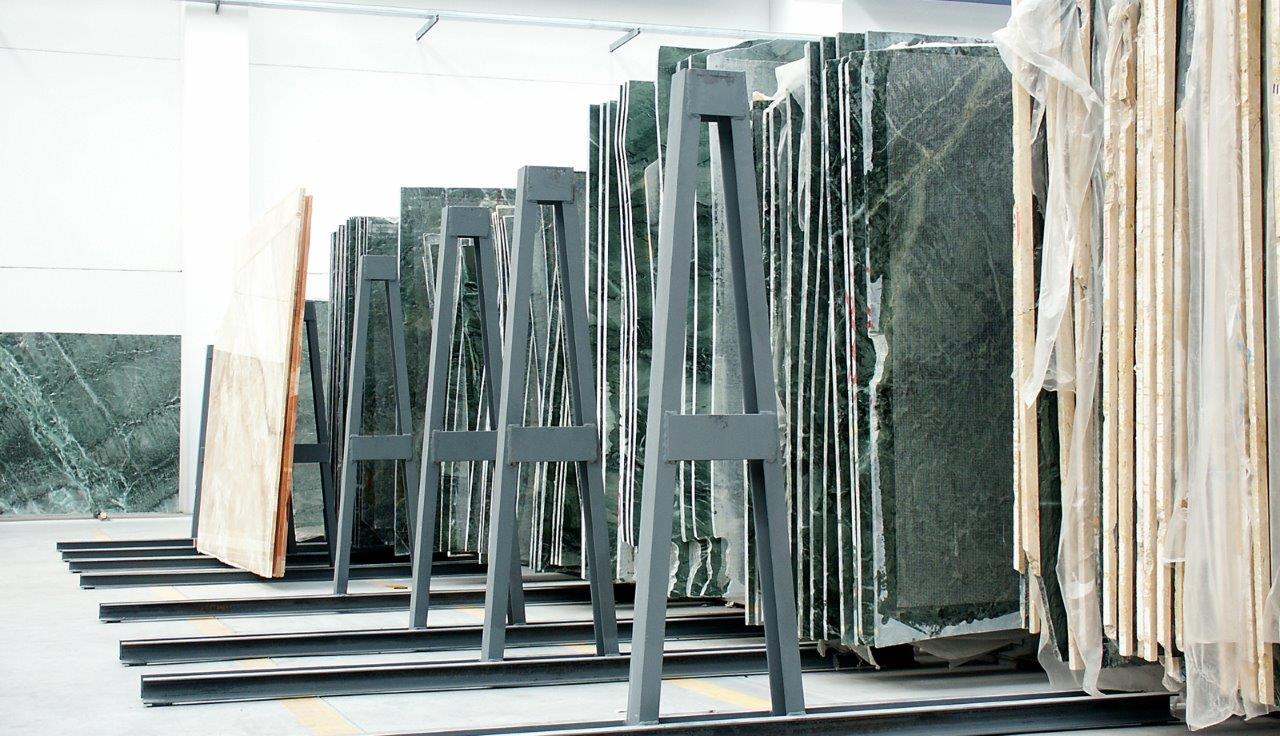 Italian stone industry export figures for 2020 show the impact of the global pandemic and, despite the recoup in the second half of the year, sector companies are having a tough time making up for the losses in market share incurred during the lockdown.
This, very briefly, is the picture drawn by official sector statistics the Confindustria Marmomacchine Studies Center processed using ISTAT data, which also provide the basis for an analysis of the dynamics registered during the year. After the negative peak reached in March (-27% in value from May 2019) due to the production halt, the trend reversal seen in June (-24.5% from the first half of 2019), the increase in Italy's exports of marbles, granites and other natural stones – both raw and finished products – was reiterated in the summer months, rising to -19.8% at the end of the third quarter, but unfortunately weakened in the last part of the year, ending at -17.3% (for a total of 1.503 million euros, compared to the 1.816 million of 2019).
Looking at the composition of Italy's stone exports in 2020, we see that the biggest losses were in raw materials, whose foreign sales decreased in value by 32% from the previous year (from 424 to 288,2 million euros) mainly due to a big cutback in orders from China (-35.4% for 133.8 million), the number one importer of blocks from Italy, as well as from India (-56.2% for 21.6 million), which remained in second place.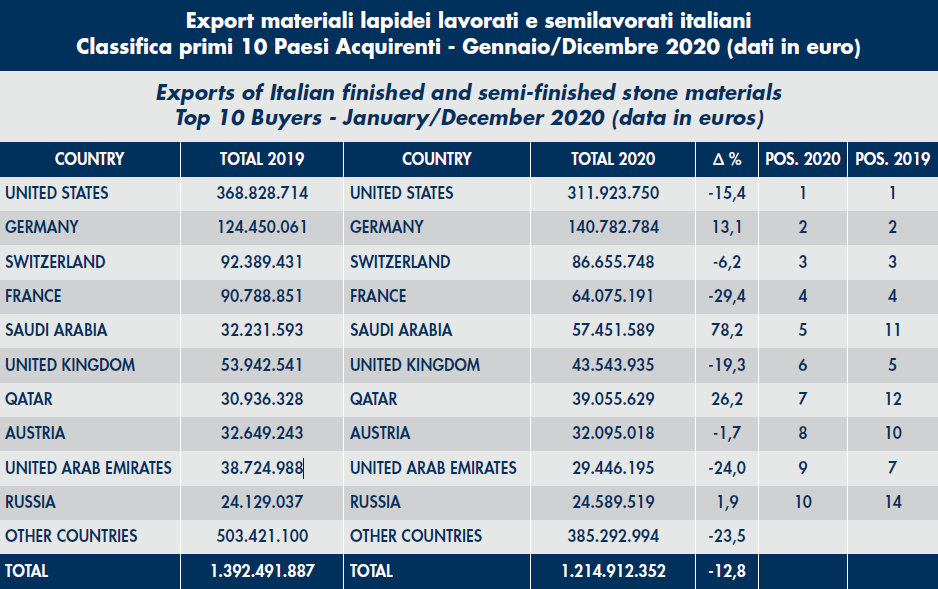 Where finished and semi-finished products were concerned – those with the highest added value, which in value account for 80% of Italy's total stone exports – the decrease in exports was more contained, with a downturn of 12.8% from 2019, for total value of 1.215 million euros.
Among the markets for slabs and finished products, in absolute terms the biggest decrease in exports was to the United States (remaining the top buyer, however, by an ample margin), whose purchases dropped by 15.4% (to 312 million, from the 369 in 2019). Growth (of 13.1%) was seen in Germany, the number two market (with 140.8 million) while there were downturns in all the other major European countries: -6.2% in Switzerland (third, with 86.6 million), -29.4% in France (fourth, with 64.1 million), -19.3% in. the United Kingdom (sixth, with 43.5 million) and -1.7% in Austria (eighth, with 32.1 million).
Better performance was instead seen in the Persian Gulf area, especially thanks to a big increase in orders from Saudi Arabia (+78.2%, fifth buyer with 57.5 million) and Qatar (+26.2%, seventh with 39 million), while sales declined to the United Arab Emirates (-24%, ninth with 29.4 million). Ending the top ten ranking was Russia, whose imports last year remained on the levels of 2019 (+1.9% with 24.6 million).