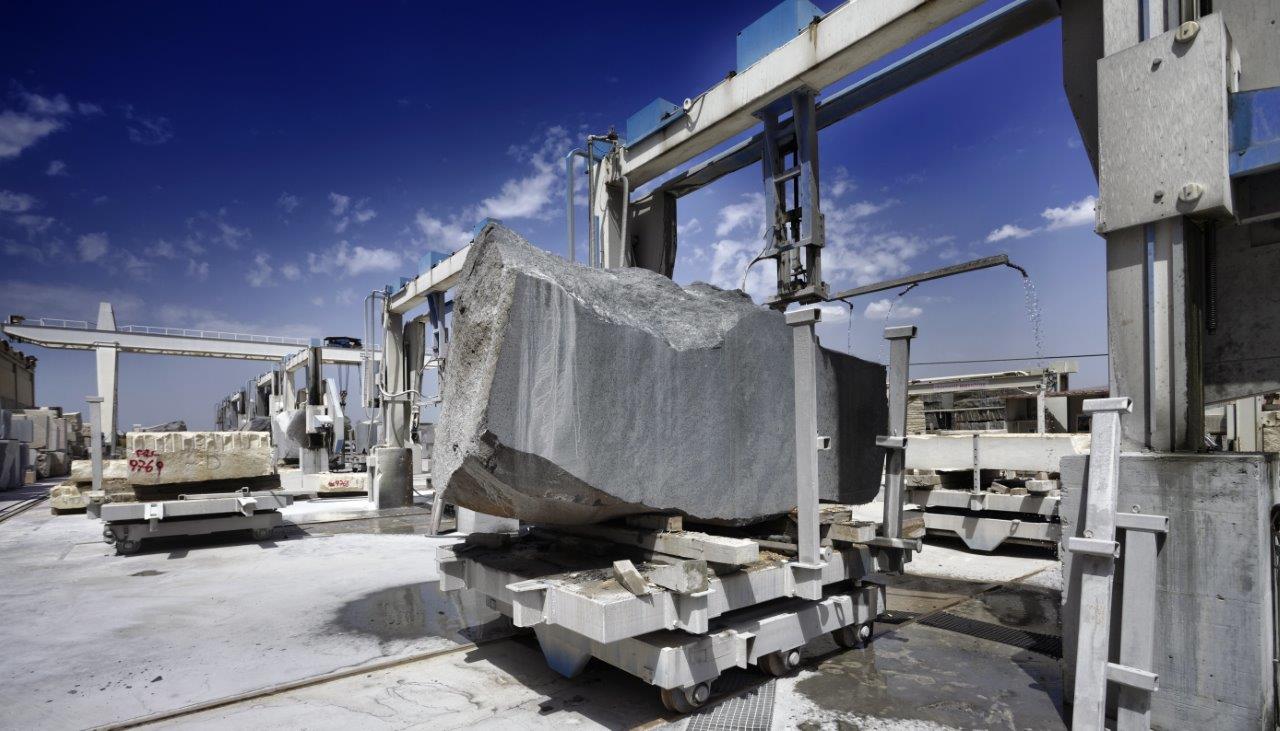 Despite the definite uptake registered in the second half of the year, for the Italian techno-stone industry 2020 closed – as was amply foreseen – with a marked drop in sales on foreign markets, which account for about 80% of the sector's total revenue. In fact, according to the data processed by the Confindustria Marmomacchine Studies Center using Istat statistics, last year the worth of Italy's exports of machines, installations, equipment, tools and consumables to extract and process natural stone was 926 million euros, showing a loss of 16.1% from the 1.104 million of 2019.
Retrospectively analyzing the year just ended, a partial consolation is found in the sector's capacity for resilience and recovery in an unprecedented health emergency. After the near collapse in April (an 80% loss from April 2019) due to halts in production in Italy and the rest of the world, that continued until May – when there was a smaller downturn in foreign sales, of around minus 30% compared to the first five months of 2019 – beginning in June Italy's exports gradually realigned with 2019 figures, rising to -17.6% in the third quarter and, as stated, to minus 16.1% by the end of the year. According to the first projections from the Confindustria Marmomacchine Studies Center, the uptake should continue this year, too, although the expected rebound will probably not allow Italian makers of stone technologies to fully recoup their export losses in 2020, postponing to next year a return to pre-pandemic levels.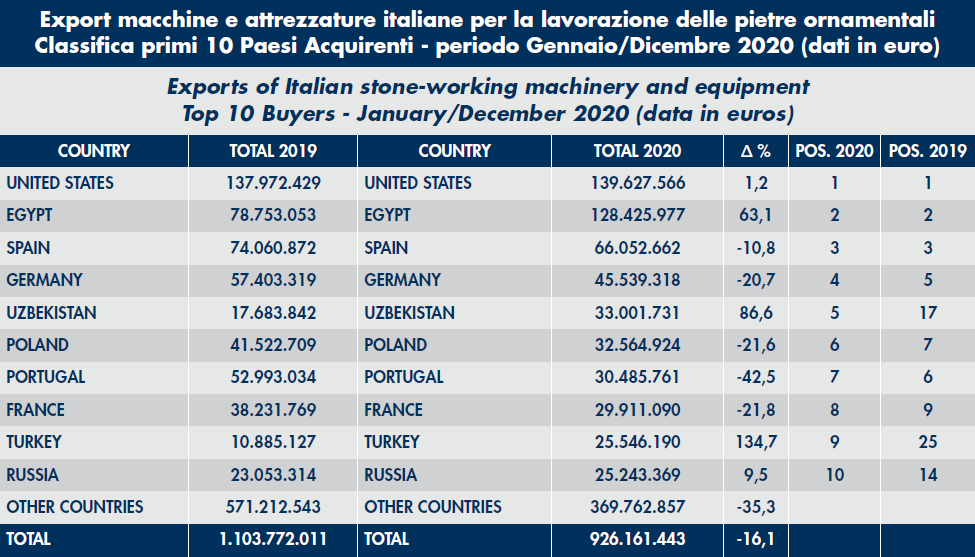 Looking at destination countries, again in 2020 first place among buyers of stone-working technologies Made in Italy was the United States, where, thanks to a good second half of the year, Italy's exports fully recouped 2019 levels (+1.2%), reaching worth of nearly 140 million euros. In second place was Egypt, which, thanks to a 63.1% increase in orders, reached 128.4 million, confirming itself as one of the most dynamic countries in recent years. However, the growth seen in the top two markets was not enough to offset the generalized downturns in sales to the EU: if the decrease in Spain's imports was relatively contained (-10.8%, the third-ranking country with 66 million), it was larger in Germany (-20.7%, fourth with 45.5 million) as well as in Poland (-21.6%, sixth with 32.6 million), Portugal (-42.5%, seventh with 30.5 million) and France (-21.8%, eighth with 29.9 million). Doing very well, instead, were exports to Uzbekistan (+86.6%, fifth with 33 million), Turkey (+134.7%, ninth with 25.2 million) and Russia (+9.5%, tenth with 25.2 million). To complete the picture of this "annus horribilis" we cite the plummeting in exports to the United Kingdom (-40.1% to 24.5 million), India (-71.2% to 16.8 million), Brazil (-55% to 16.5 million) and Algeria (-63.9%, to 8.6 million), all of which were no longer among the top ten markets.