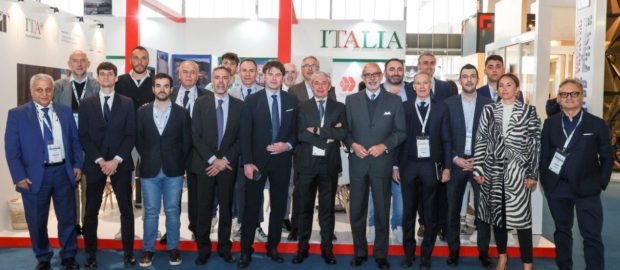 From February 18 to 21 CONFINDUSTRIA MARMOMACCHINE – in collaboration with ICE-Agency and with the support of the Italian Ministry of Foreign Affairs and International Operation (MAECI) – presented an important collective exhibit at STONE & SURFACE SAUDI ARABIA 2023 in Riyadh, the main Saudi event devoted to interior and exterior coverings/surfaces. The show was part of a rich slate of events at THE BIG 5 SAUDI, the Gulf country's building sector tradeshow.
The Italian collective at STONE & SURFACE SAUDI ARABIA consisted of 34 companies representing the finest stone productions and most advanced stone technologies Made in Italy: ABRA IRIDE – ABRASIVI ADRIA – BELLINZONI – BELLITALIA – BRETON – COLOMBINI – DAL PRETE ENGINEERING – DORICO TECHNOLOGIES – ELITE STONE – FABER CHIMICA – FATO STONE – FRACCAROLI & BALZAN – GAMMA STONE – GDA MARMI – GEMS – GMM – ISA ABRASIVI – KEMISTONE – MARCHETTI TECH – MARGRAF – MARMI GHIRARDI – MARMO ELITE – MARMI E GRANITI D'ITALIA – OMAG – OMAR CRANE – PEDRINI – PIMAR – PODIUM – PRUSSIANI ENGINEERING – SIMEC – STILMARMO – TENAX – TERZAGO ROBOTICS – ZAGROSS.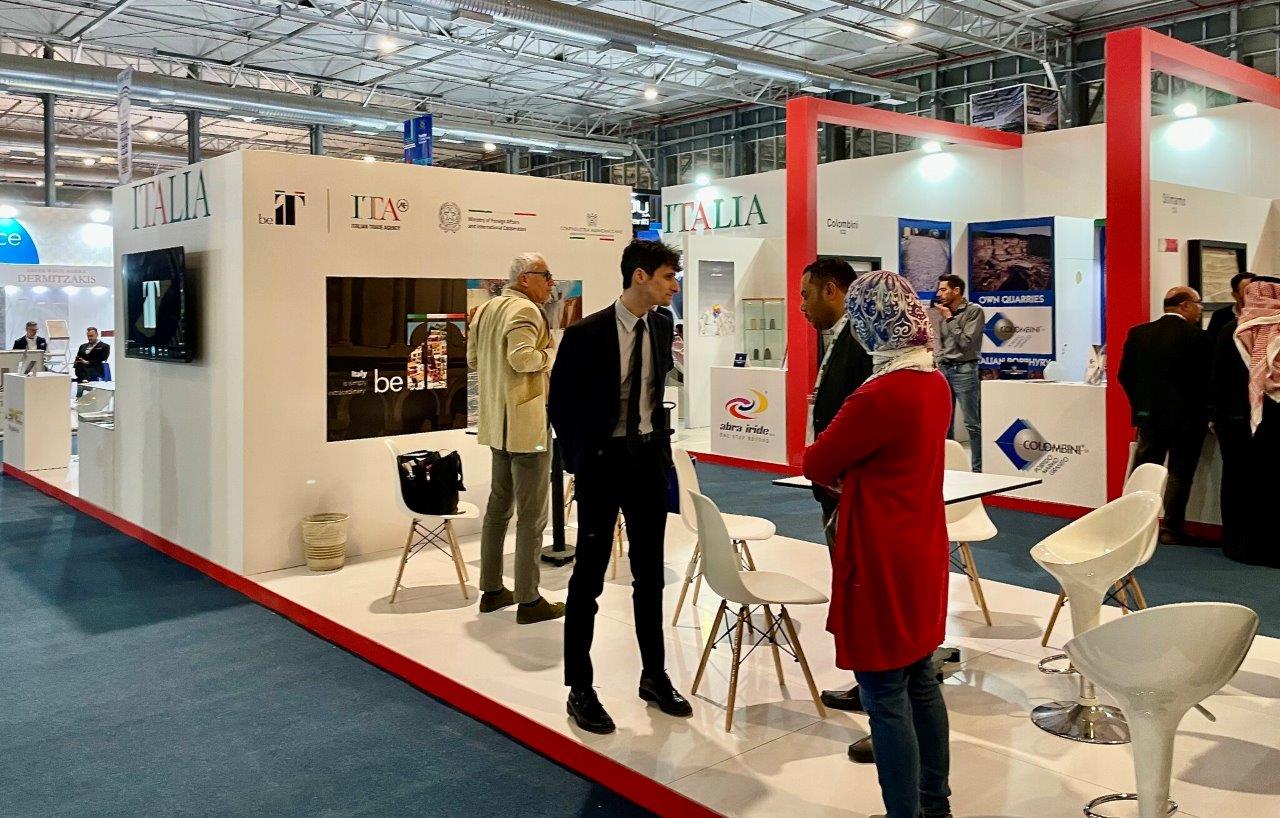 Inside the official Italia Area at the Saudi fair the association and ICE-Agency offered a welcoming Meeting Point Italia with informative and assistance services for companies exhibiting at or visiting the show.
The large and qualified Italian presence at the event was greeted with pleasure also by the Vice Minister of Industry and Mining Resources for the Kingdom of Saudi Arabia, Osama bin Abdulaziz Al-Zamil, by the Italian ambassador to Saudi Arabia, Roberto Cantone and by the head of the ambassy's Economic and Trade Affairs, Valerio Cendali Pignatelli who, during the show – accompanied by the President of CONFINDUSTRIA MARMOMACCHINE, Federico Fraccaroli, the Honorary President Flavio Marabelli and the Director of ICE-Agency Riyadh, Enrico Barbieri – visited the Italia Area and greeted the exhibitors.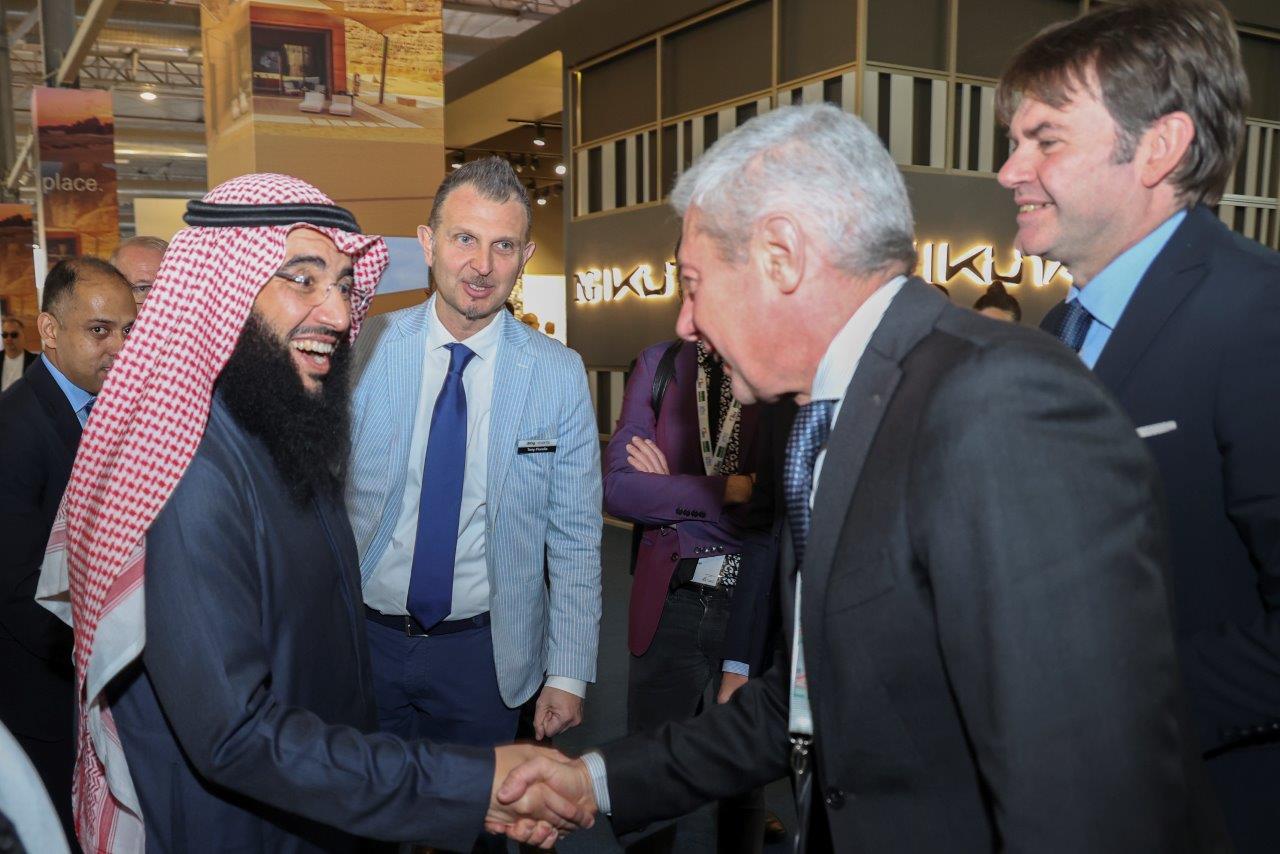 Italian participation at STONE & SURFACE SAUDI ARABIA 2023 was a further occasion for positioning Italian products on the Saudi market, distinctive for the huge architectural and infrastructural projects included in the SAUDI VISION 2030 plans.
According to CONFINDUSTRIA MARMOMACCHINE Studies Center data, in the first 10 months of 2022 Saudi Arabia took fifth place among markets for Italian finished and semi-finished stone products with imports worth more than 54 million euros and a 42% increase from the same period in 2021. The country's imports of Italian technologies for extracting and processing natural stones were also on an upturn, returning Saudi Arabia to the ranks of the 50 top buyers internationally.