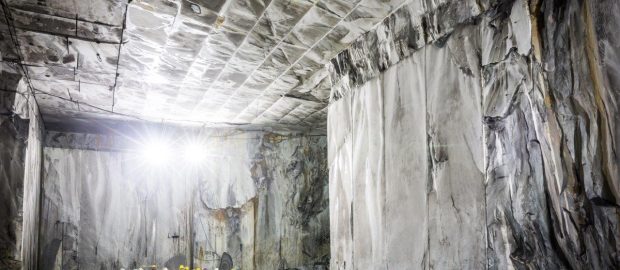 After ending 2020 with a 17.3% downturn in foreign sales, in 2021 the Italian stone industry registered a definite uptake in exports – to nearly all its major markets – driven by an economic rebound and renewed expansion of the global construction sector.
According to the official statistics processed by the Confindustria Marmomacchine Studies Center presented at the association's General Assembly on June 10 in Milan, in 2021 Italy's overall exports of marbles, travertines, granites and natural stones in general – both raw and finished products – increased by 20.8% from the previous year, to 1 billion, 850.4 million euros.
Despite a slowdown compared to the tendential +33.6% in the first half of the year – a figure in any case influenced by comparison with the minimums seen in March and April of 2020, when lockdown put a halt to production – thanks to this heavy uptake the sector's foreign sales even surpassed those in 2019 (by 1.9%), the year prior to the pandemic.
Looking in detail at these exports it should be stated that the highest percentage increase was in raw materials, which with an increase of 25.9% from 2020 reached 369 million euros (although 13% less than in 2019), while the increase in sales of finished and semi-finished stone products was of 19.6%, for revenue of 1 billion, 481.4 million, 6.4% more than in 2019.
Regarding destination markets, there was a strong recoup in raw stone sales to China (up 45.7% from 2020, for 195 million), confirming its leadership among importers of Italian stone blocks with about 53% of the total, with India coming next with purchases worth 28.5 million (+31.9%).
Where sales of finished and semi-finished stone products were concerned – those with the highest added value, that in worth account for about 80% of all Italy's stone exports – requiring emphasis is the definite uptake in exports to the United States (+30.6% after a 15.4% downturn the previous year), which, with imports worth 407.8 million euros was by far the top destination market. Sales of Italian stone slabs and finished products were very good in Europe, too, mainly to Germany (+15.3%, the number two buyer with 153.5 million in imports), Switzerland (+10.4%, in third place with 95.5 million), France (+6%, fourth with 78.4 million), the United Kingdom (+34.5%, fifth with 63 million) and Austria (+23.5%, seventh with 43.7 million).
Looking at the Persian Gulf area, traditionally a reference market for Italian stone materials, there was a downturn in sales to Saudi Arabia (-10.2%, sixth place with 51.6 million) and to Qatar (-6.5%, ninth with 36.5 million) – moreover two of the very few countries showing growth in 2020 – nevertheless offset by a sturdy increase in exports to the United Arab Emirates (+39.7%, eighth place with 41.1 million). Concluding the top ten markets was Australia, whose purchases of finished stone goods Made in Italy grew by more than 50%, reaching worth of 32.1 million euros.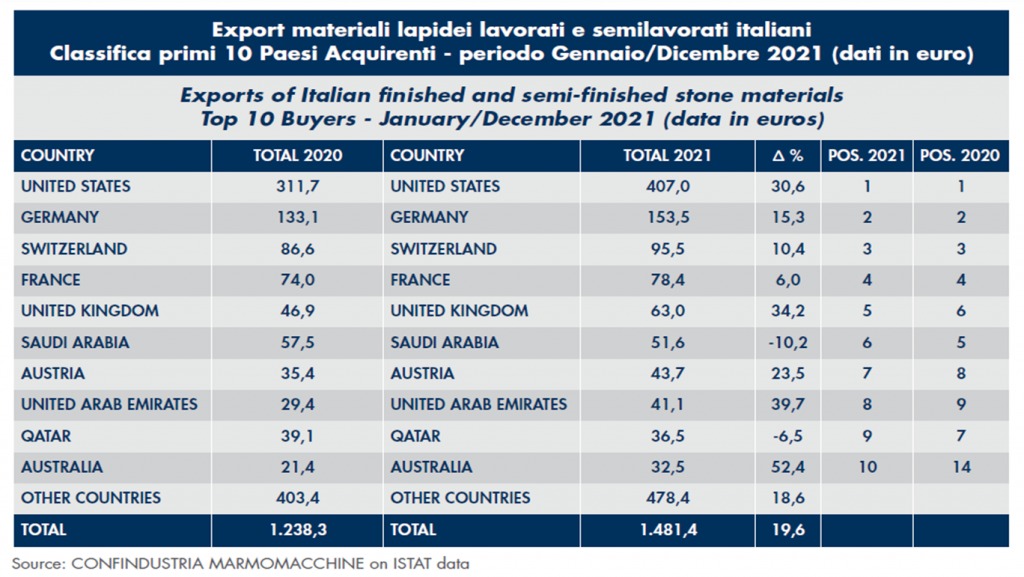 Encouraging signs – although requiring verification further on, given the current international situation – could also be seen in data for the first quarter of this year, when Italy's exports of stone materials increased by 21.2% in value from the same period in 2021.